New for 2017
Patients  are invited to share their experiences of acupuncture and holistic healing treatments provi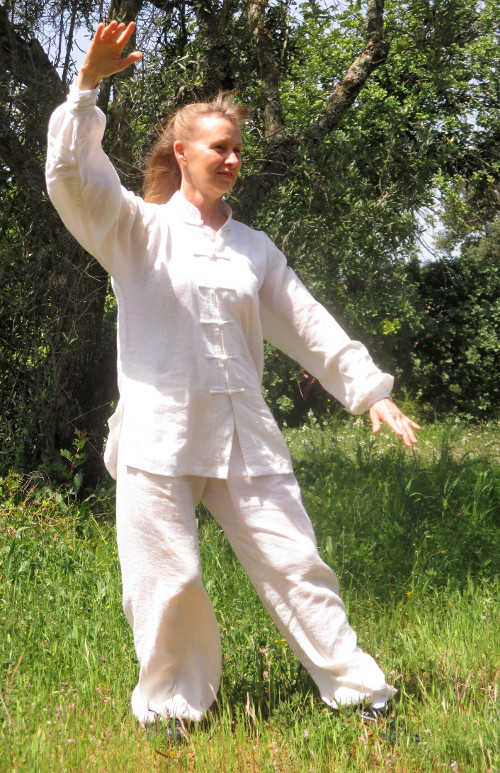 ded by Linda.
Students are invited to share their experiences of  the Qi Gong classes Linda teaches.
Please use the contact page on this website to leave your comments or leave a comment on the Facebook page for Hanmer Holistic Healing.
Thank you.
Linda is a very thorough practitioner. She listens to your needs and has such intuition and knowledge combined. This results in you feeling heard. The care and treatment Linda offered me this year has been life changing.  I highly recommend Linda and this route to holistic treatment. Thank you so much Linda. I feel so much better than I expected after four treatments. I also take away valuable changes to  my diet and daily routines.
Charlotte Tranter.  I will no doubt be back for the massage!
Highly recommend Linda, I was very sceptical at first but worked wonders for me. Friendly and caring treatment.
Thanks  very much.
Gareth Owen. Oswestry
Linda used acupuncture techniques to overcome some painful and debilitating digestive issues from which I had suffered for many
months. I am extremely grateful, B Irving, Malpas,
I have used Linda for a number of issues now and can't recommend her highly enough. What has been particularly great about her is that she doesn't just look to sort the issue, she tries to understand what might have caused the issue to try and prevent it happening again. Not only did Linda improve my neck and knee (2 separate issues) but she has improved my health in other areas, with suggestions on diet and wellness.
Lucy Kehoe    Managing Director -Sign Master Systems  Whitchurch
When I first contacted Linda I was unable to get out of bed, I was in a bad flare up and in a lot of pain due to fibromyalgia. Linda saw me and helped me understand how the body works on a holistic level, she was very understanding and positive. The treatments had amazing effects, I could notice the difference from the first treatment. I am now doing all the things I could only think about before, I am doing couch to 5K, as well as getting back on my bike and enjoying the mountains. Thank you Linda,  
Kind regards  Purdy Jones   Wrexham
I found Linda very approachable, and the service she provides very good. She helped me recover from an accident more quickly, and treated me holistically by looking at my diet, and giving exercises.  J.  Flynn
Over the years I have seen Linda for treatments on my allergies and asthma related conditions. Each time I visited I was greeted with warmth and kindness and Linda has always gone above and beyond to make sure I left feeling more balanced and with techniques and remedies to take home with me.
Many thanks Linda,   Johnny  Lewis    Chester
Testimonial for Qi Gong                            01/11/19
I have been attending Linda's Qi Gong class for over a year now and would like to give some feedback and share my experience.
Linda comes across as both enthusiastic and passionate in her Qi Gong work which is evident through the fluidity and grace in her expression
and movement. As a teacher, Linda not only explains the movements in great detail, but also explains the philosophy and reasons behind each
of the movements. From the initial warm up through to the various postures and movement sequences, Linda is very supportive, making
minor adjustments as necessary to correct Form, to give advice from her own personal experience and to abide by the Nei Gong ethics of
practice.
During each session, I feel there is sufficient space and silence given to explore the Mind/Body experience, to work with the breath,
enhancing the depth of awareness and subtlety of energy movement, to explore any tension, tightness and stagnation and work through those
issues and release through correct posture, focus and the breath. I tend to have an issue remembering routine sequences, but Linda
supports this through sufficient repetition each week and subsequent weeks to allow time for absorption and assimilation.
After each of the weekly Qi Gong sessions, I always feel great benefit, feeling more easeful, peaceful, lighter, and with the added
benefit of taking away some of the knowledge and routines to be able to practice in my own time.
Thank you, Linda, for all of your teachings and help on my journey and long may you continue on this beautiful path of helping others on
their journeys.
Bryan White (Bhanu) – Railway Engineer, Yoga teacher and Therapist
Hi Linda, Just wanted to let you know I gave birth this morning at 4.47am. Thank you so much, I am really sure coming to you for the treatments brought him on and I did not have to get induced. Thank you again it was a lovely experience X      J. Coupe
Linda has treated me with massage and acupuncture for a rotator cuff shoulder injury. I have been in constant pain – especially at night – for 7 months and yet after just a few sessions the pain has dramatically improved. This was purely down to Linda as nothing else had changed! To be able to sleep again has made a huge difference.
Thank you Linda your treatment is amazing.  E Higgin.  Malpas
I was quite poorly at the beginning of the year, Linda has helped me get better and increase my energy levels quite dramatically. I also
really value the advice about eating and supplements and how different foods work in your body. I would have no problem at all in
recommending Linda she is a star!  T Peers.
Linda has helped me so much with my sinus problems, the difference in how I feel is incredible. All the nutritional and general advice has really helped too – Thank
You Linda!    H. Threlfall.  Tarporley
"Highly recommend! I had a lovely session this morning. So relaxing! Fantastic Chinese massage" 
😊
👍🏻    L Griffiths  Penley
Linda is very knowledgeable and has a great energy.  I would highly recommend.  K Willis.  Oswestry
My GP was unable to treat my difficulty swallowing and a feeling of a lump in my chest. After treatment with Linda all the symptoms went away and I was also able to sleep much better. A Johnson
I found Linda very approachable, and the service she provides is very good. She helped me recover from an accident more quickly, and treated me holistically by looking at my diet, and giving exercises.  J Roles. Whitchurch
Linda treated my daughter, her anxiety is now much  better and we no longer have the eating problems.  I was very pleased.   L Hartley.   Farndon
I was worried I wouldn't be able to do the exercises but I enjoy the qi gong classes and always sleep better after class.  K  Mason.
"Thanks Linda, my shoulder is much better and I am now back at work"  D Jamieson.  Wrexham
Thank you for the classes of qi-gong at Penley on Thursday nights. I feel very relaxed and the exercises make me feel good about myself inside and out. You are very knowledgeable and tell us how other body works. I have been sleeping better and my blood pressure has come down and I don't need to take pills anymore. xxx  J Millington.  White Wells.
Thank you so much for Heidi's treatment and the advice you gave for her. You can see there is a real difference! ( 4 month old baby treated for shoulder distosia)  H Threfell.